Arcade Fire was one of those bands that any music purist was crazy about before they became, well, Arcade Fire. They were the underground Indie group that everyone loved to love, and it was really no surprise hat they became a huge success in the mainstream world of music. Still, we music snobs like to point out
frequently
that we stumbled upon their music and adored them with a deep devotion before the rest of the world discovered them, handed them several Grammy awards, and therefore made concert tickets about four times more expensive.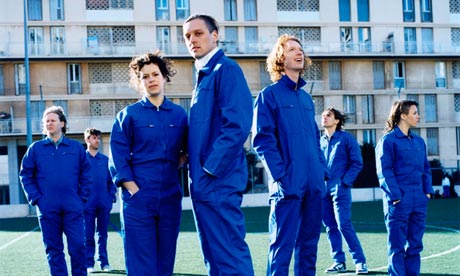 Whenever my favorite off-the-beaten path bands produce a new album post-fame, I always get nervous for them. What if they cave in and sound mainstream? What if they lost their
je ne sais quoi
quality? What if they start buying $500 grudgy looking tops and skinny jeans to still
look
hispter but really
aren't
anymore? I held my breath for Arcade Fire with each album they release. Despite their success, this band refuses to lose their Indie appeal. Following their wildly successful album
The Suburbs
, the band just recently released their album
Refelktor and Her
. Good news, kids: the album is quite good. It has a bit more of a 70's flare with a dash of funk than former albums, but it's still the same great vibe that we've come to know know and love. It has a bit more sass as well, which I'm always a fan of as I'm sure any regular readers know. Be sure to check out their latest album. I've included their former albums so you can pull a marathon Arcade Fire music session if that's the way your day needs to play out. Enjoy!